NEW RECORDING STUDIO IS MUSIC TO YOUNG PEOPLE'S EARS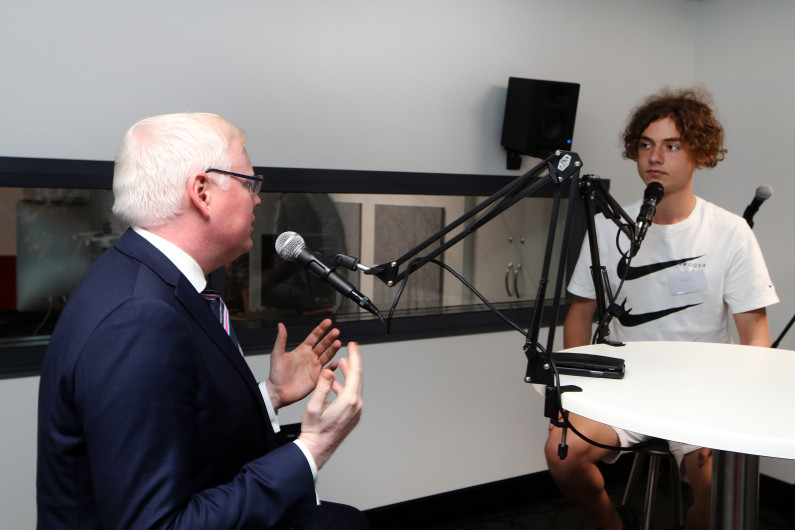 Southern Youth and Family Services (SYFS) officially unveiled its new state of the art sound recording studio on Friday March 26.
The Grand Opening was attended by 130 guests including NSW Minister for Families, Communities and Disability Services Gareth Ward, Member for Keira Ryan Park, Member for Wollongong Paul Scully, Member for Shellharbour Anna Watson and Federal Member for Whitlam Stephen Jones. Deputy Mayor John Murray and Cou
Business partners in attendance included Justin Sweeney and Ryan Powell from Peloton Group who were the builders for the Project and Sheree Gillen and Tony Donovan from Cardno who provided the expert advice and project managed the build.
Along with an official Welcome to Country by Aboriginal Elder Uncle Gee and speeches from SYFS CEO Narelle Clay and Minister Ward, guests were also treated to a fabulous lunch provided by Culinarius Wollongong. And if that wasn't enough, there was also a showcase of art created by many local artists including an Aboriginal pelt donated by Jodie Edwards which tells the SYFS story, artworks by Aunty Jodie Stewart and Richard Campbell and cartoons by Brett McVey and some of the young people.
There was a photographic display of scenes featuring iconic Shellharbour City based land and seascapes shot by local photographers including Sylvia Liber, Alex Pike, David Paul and Dee Kramer as well as photos taken by SYFS Staff and young people including Conor Hren.
The sound studio, which was assisted by a $204,184 NSW Government Infrastructure Grant (Stronger Country Communities Fund) formed part of the construction of a new multi-purpose Community Facility located at SYFS Head Office in Warilla which will this week host SYFS Annual Client and Family Awards.
SYFS Members, Community and Business Partners along with invited guests were treated with a tour of the new facility including a close-up look at the new recording studio and it's recording equipment and features. Importantly, the opening was also attended by some of SYFS young people who had been participating in one of SYFS song writing and music programs with Indigenous Singer / Songwriter Shellie Morris and musician Jungaji Brady. Young people participating in programs run by Beyond Empathy were also in attendance and even had the chance to interview Minister Ward in the new studio for a Podcast.
The presence of the young people gave guests a very real insight into just how significant and important it is to invest in new facilities like the recording studio, which will enrich the lives of our disadvantaged and vulnerable youth and provide them with another creative outlet to assist them to tell their stories, learn new skills and have fun which will contribute to their overall health and well-being.
The studio will provide a vital means of expression for local young people, who can create podcasts, write and record music and also learn practical audio engineering skills to advance employment opportunities.