BUSINESS COMMUNITY HELPS YOUNG PEOPLE AND FAMILIES SHINE AT ANNUAL AWARDS EVENT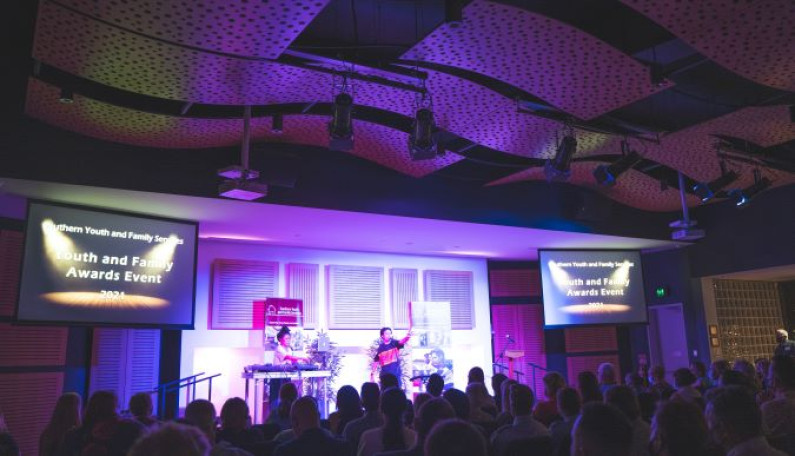 On December 2nd the Annual Southern Youth and Family Services (SYFS) Youth and Family Awards took place at SYFS Youth and Family Centre in Warilla.
The Event recognised and paid tribute to the enormous achievements of disadvantaged young people and families who managed to successfully navigate the many barriers and obstacles they were faced with as well as the added challenge of life during a global pandemic.
Along with presentation of approximately 50 Awards, one of the highlights was long-time SFYS Associate Carol Metcalf donating funding in memory of her late son Ben Cooper. The recipient was a remarkable young SYFS client named Zayne Burnham who displayed genuine and heartfelt appreciation in receiving the honour.
The audience was deeply moved by Carol's personal depiction of her son's struggles throughout his life, and her motivation in creating this Fund to assist young men facing similar challenges.
Among the special guests in attendance were Shellharbour Lord Mayor Marriane Saliba, Member for Wollongong Paul Scully, Member for Shellharbour Anna Watson, Member for Keira Ryan Park along with St George Illawarra young guns Jayden Sullivan and Tyrell Sloan and Illawarra Hawks players AJ Ogilvy and Alex Mudronja.
Those in attendance were treated to a beautiful performance by acclaimed singer / songwriter Emily Markham along with a first-time performer at the Awards, Rhyan Clapham better known as local Hip Hop artist Dobby.
It was Dobby who closed the Awards ceremony with a high-energy performance featuring a live DJ, drumming and expertly crafted songs with politically charged lyrics that resonated with many in the audience - adults and young people alike.
While it was the deserving young people and family members who took centre stage on the night, this event simply wouldn't be possible without the support of the local business community who assist in funding award prizes and event costs. Many of our sponsors were in attendance to mingle with other guests and young people throughout the evening and personally present awards.
We would like to thank the following businesses for their generous support.
Major Sponsor
Illawarra Toyota
Entertainment Sponsor
Peloton Constructions
Platinum Sponsors
Commonwealth Bank
Xpon Technologies
Virtual IT
Gold Sponsors
AST
BMS
Cardno
Silver Sponsors
Police Lake Illawarra District - Crime Prevention Unit, Domestic Violence Unit, Traffic Unit and General Duties
The Albion Park Rail Neighbourhood Centre
The Byrnes/McMahon Families
Convenient Chemist Wollongong
The St George Illawarra Dragons
Illawarra Masonry
Illawarra Taxi Network
Kells
Martin Merrett One Agency Real Estate
Illawarra Youth Housing
John and Jenny Murray
Nowra Carpet Court
Nowra Chemicals
NR Wallace Building Inspections
Bronze Sponsor
Gerry Traill
SYFS Annual Raffle raising much needed funds was also drawn on the day, with winners announced that evening. We would also like to thank and acknowledge our Raffle Sponsors -
Portico
Wave Surfboards
Virtual IT
Wollongong Bike Hub
Beauty by Beck
Domayne Electrical Warrawong
Illawarra Hawks
St George Illawarra Dragons
WIN Sports and Entertainment Centre
The Lagoon Seafood Restaurant