LOCAL BUSINESSES ASSIST SYFS IN RECOGNISING YOUNG PEOPLE AND FAMILIES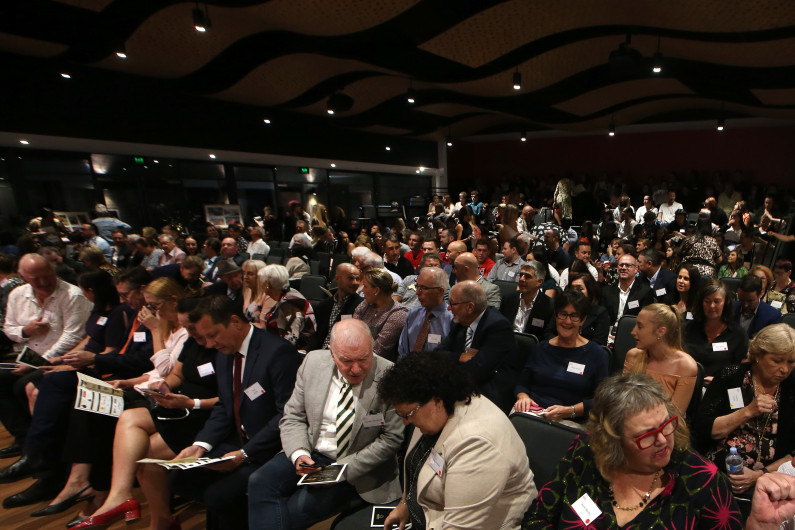 The Annual Southern Youth and Family Services (SYFS) Youth and Family Awards were held at SYFS' Youth and Family Centre last week, welcoming a host of dignitaries, guests, sponsors, young people and families to their newly built multi-purpose indoor facility. The decision to postpone last October's Event due to COVID meant the 260 guests got to experience the Awards indoors for the first time and enjoy the new state of the art hall.
Amongst the 260 guests, SYFS were proud to welcome Former NSW Premier and Patron Mike Baird AO, Member for Whitlam Stephen Jones, Member for Wollongong Paul Scully, Member for Cunningham Sharon Bird, Member for Gilmore Fiona Phillips and Wollongong Lord Mayor Gordon Bradbury, Shellharbour Lord Mayor Marriane Saliba, Member for Keira Ryan Park was represented by Wollongong Deputy Lord Mayor Tania Brown.
Also in attendance to recognise and acknowledge the outstanding achievements of SYFS young people and families were i98FM Afternoon Announcer and Ride4Rotary Ambassador Maje Saba, St George Illawarra Dragons Captain Cameron McInnes, Corporate Sales Manager Jon Burt, Illawarra Hawks Captain AJ Ogilvy and Hawks player Daniel Grida.
Without our valued sponsors however, this Awards Ceremony and the opportunity to commend the inspirational resilience of our young people and families simply would not be possible. We would like to offer our sincere thanks to the following businesses and organisations for their support of the Awards -
Major Sponsor
Illawarra Toyota
Entertainment Sponsor
Peloton Group
Platinum Sponsors
Commonwealth Bank
Piruse
Internetrix
Virtual IT
Gold Sponsors
AST
BMS
Cardno
Silver Sponsors
Albion Park Rail Neighbourhood Centre
The Byrnes / McMahon Families
Convenient Chemist Wollongong
St George Illawarra Dragons
Illawarra Masonry
Illawarra Taxi Network
Kells
Martin Merrett One Agency Real Estate
Illawarra Youth Housing
John and Jenny Murray
Nowra Carpet Court
Nowra Chemicals
NR Wallace Building Inspections
Bronze Sponsor
Gerry Traill
Raffle Sponsors
Portico
WAVE Surfboards
Virtual IT
Wollongong Bike Hub
Beauty by Beck
Domayne Electrical Wollongong
St George Illawarra Dragons
Illawarra Hawks
WIN Sports and Entertainment Centre
The Lagoon Seafood Restaurant
Over $22,000 was raised from the raffle drawn last November and the Sponsor contributions not only offset a portion of the event costs but also cover prizes and certificates for all 45 plus Award Recipients including winners and highly commended.
Given the uncertainty of the last 12 months and the COVID-19 crisis SYFS were incredibly grateful to have sponsors continue to support them through award sponsorships and prize Donations. Despite their own challenges throughout this period the general sentiment was of overwhelming support for SYFS and recognition of the fact that they had to continue to deliver services and work even harder to support the vulnerable.
The significance of this Awards Ceremony and what it means to the young people and family members involved simply can't be understated. While all of us face challenges of sorts from time to time, many of these award recipients and nominees are born and raised in circumstances which put them at immediate risk and disadvantage of enjoying the safety, security and opportunities many of us take for granted. Basic human rights such as secure housing, safety, health, wellbeing, adequate clothing, education, employment, family care / support and access to health services.
Having to grow up and navigate life with these additional barriers often leaves these people more vulnerable to other issues such as abuse, poverty, unemployment, homelessness, mental health issues, family breakdown, addiction, suicide risk, isolation and bullying.
So, for those who have experienced these hardships and the isolation that usually comes with it, the chance to be acknowledged, validated and recognised for their hard work and achievements is often a completely foreign experience and one that they will never forget. For some it's so daunting that even getting them on the stage to receive the Award can be an achievement!
From a wider perspective this generous support of the business community also helps to validate the hard work of SYFS staff, front-line workers and volunteers who are all striving to make a difference day in and day out. It is also crucial in raising broader public awareness of what SYFS does and the extensive range of services they provide.
Thank you to all of the sponsors, supporters, partners and advocates for helping to make this very special night what it was.