YOUNG PEOPLE & FAMILIES SHINE AT AWARDS CEREMONY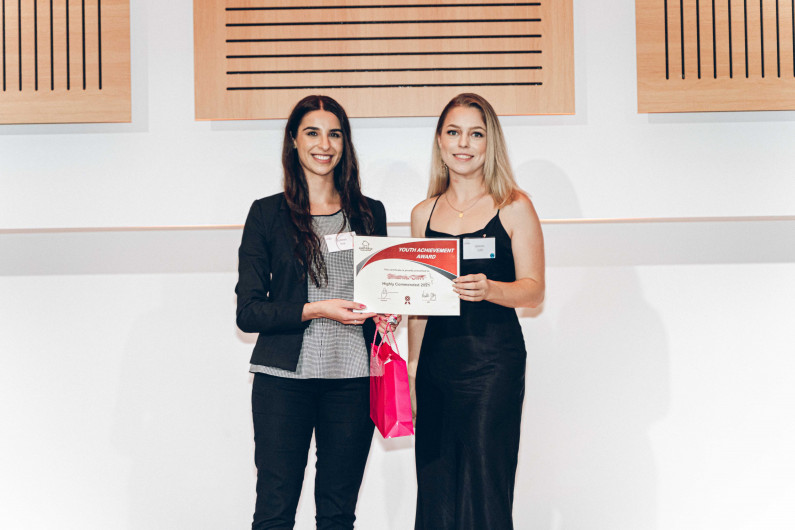 For all of the young people and families involved in SYFS Youth and Family Awards on April 8th, there was an air of excitement, anticipation, but also a sense of the unknown given the new venue and the fact that there was no event held in 2020 due to COVID.
Held in SYFS newly built multi-purpose hall and with a guestlist including Members of Parliament, Respected Indigenous Elders, Critically Acclaimed Entertainers and well-known Media Personalities the event took on an even greater feeling of grandeur, particularly for the young people and their families who were directly involved on the night.
SYFS had around 50 deserving young people and family members present at the event who were either award winners, highly commended or involved in presentations or the group performance on stage with entertainers Shellie Morris and Troy Jungaji Brady. For those nominated and receiving awards it required them to assemble at the side of stage during presentations and walk on stage to receive their awards from event sponsors in front of a 250 plus crowd. They then posed for photos with their awards and certificates both onstage and side of stage with Cameron McInnes of the St George Illawarra Dragons.
Such public attention can be daunting enough for most privelaged adults, let alone these young people and family members, many of whom who experience heightened levels of anxiety and social issues as a result of the challenges they have faced. SYFS staff worked closely with the group to manage any fear and apprehension, and everyone involved need to be commended for their courage in rising to the occasion and presenting themselves in a great light with big smiles to boot!
Amongst the feedback received from young people and their families involved on the night was that they felt 'surprised', 'excited', 'special' and 'good about themselves' after learning they had been nominated and even more significantly that they felt truly 'welcomed' by those in attendance and felt that they 'belonged'. They also remarked about the atmosphere, entertainment and food and importantly the 'positivity' of their experience with one young person saying 'it's so nice there is a night all about the clients and the positive things we've done'.
Staff remarked that they could see the young people brimming with pride and 'buzzing with excitement' and this is a terrific reflection of why this event is such an integral part of the SYFS calendar.
Without the positivity, resilience and hard work of our young people and their family members these awards simply wouldn't exist, so we would once again like to congratulate the winners, nominees, performers and presenters who made the night what it was and more widely all of the young people and families we work with who continue to overcome their struggles. We hope to see you all up on stage recognised for your achievements in years to come.