RIDE4ROTARY 2021 REACHES NEW HEIGHTS!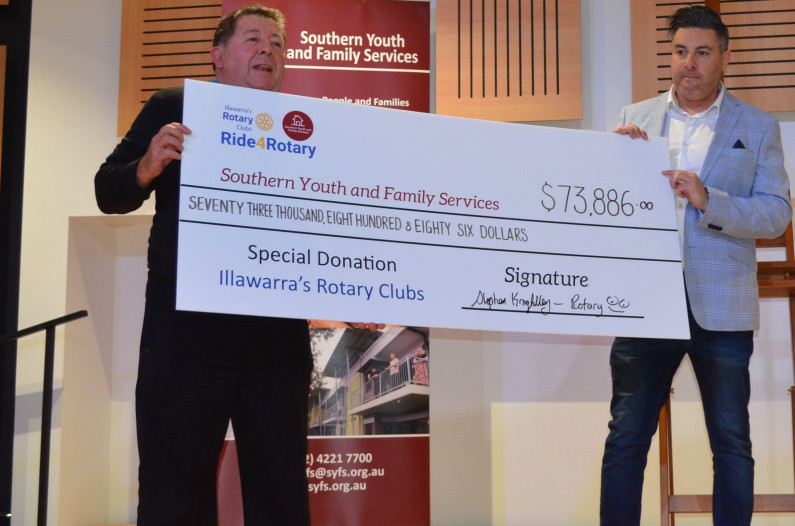 After the forced cancellation of Ride4Rotary in 2020 due to the COVID-19 Pandemic, the organising committee remained positive and continued building on the hard work and planning already done. The added time was viewed as a bonus and the team continued to meet monthly and now had the time to execute plans and strategies more fully.
This included the development of a brand-new website throughout late 2020 and early 2021 which went live in February. By this stage a number of key Event Sponsors had also already been confirmed, including Major Sponsor in BlueScopeWIN Community Partners, Platinum Partners in Internetrix, Peloton Group, The Illawarra Hawks, Event Supporters such as GIANT Wollongong, Destination Wollongong, and Media Partners WIN Television and i98FM.
i98FM Afternoon Announcer and long-time local personality Maje Saba was the Event Ambassador and used his profile and media platforms to spread the word and raise funds to great effect.
This along with a greater focus on website content, community engagement and social media presence meant the awareness of not only the event itself but also the charity (Southern Youth and Family Services) and cause (Youth at Risk) would reach more people than ever before.
The support and contribution of Illawarra's Rotary Clubs and their level of engagement reached unprecedented levels with key contributions from Rotary Clubs of Corrimal, Wollongong, Dapto, Kembla, West Wollongong, Fairy Meadow and Illawarra Sunrise. Club representatives actively championed the event and cause throughout their networks, entered teams and enthusiastically fundraised and donated.
The Event organisation was once again aptly spearheaded by Stephen Knightley from Corrimal Rotary who also finished in the Top 3 Event Fundraisers along with fellow Rotarian John Akele, each raising well in excess of $2,000. Elsewhere amongst the Rotary ranks, Jessica Gnata, Rowan Huxtable, Jennelle Livet, Rose Pope, Kerrie Guillaume, Rose Pope, Dennis Couley, Dennis Clarke and Julie Collareda all played integral roles.
With these combined efforts even more Event Sponsors and Supporters came on board in support of the event and individual riders / teams were registering at a record rate for both the live and newly introduced Virtual ride with around 150 riding across both options. Ultimately Ride4Rotary 2021 would attract an unprecedented 15 Event Sponsors and a further 9 Event Supporters who contributed to the success of the event in various ways.
Two weeks out from the event, the ambitious $40K target had already been reached, with Rotary Teams along with SYFS Teams and Young People leading the fundraising tallies. Ten of SYFS young clients registered to ride and were eagerly supported by many more SYFS staff.
Of all the corporate heavy hitters and high-profile people participating it was actually one of SYFS young people named Brendon who raised the most money of any individual - a staggering $2,700! A tremendous effort by him and all of the young people involved particularly considering the personal challenges many of them face.
Apart from Brendon, other SYFS young people to register, fundraise and ride included Mathew, India, Dryden, Jacob, Amy and Jayden who all had a great time on the day and gave of their own time to support an organisation which obviously plays a big role in their lives.
Onto May 23rd and the day itself! The sun was shining down, and the 'Family Fun Day' concept agreed upon by the committee to broaden the events appeal worked a treat with a number of food and beverage stalls along with attractions and entertainment helping to draw the event's largest crowd to date.
Kids and Adults alike enjoyed Steve's Mobile Woodfire Pizza, Sarah's Coffee Van, Ken's Cones along with the Corrimal Rotary BBQ!! Roaming Magician Julian Bull kept the crowd amazed and the fury little friends of Matilda's Farmyard were a smash with the young ones. GIANT Bicycles were also on hand to provide safety checks with Ride Nation also in attendance to promote cycling in general.
Former Dragon Ben Creagh also kept young ones and parents (mainly competitive fathers) entertained with his 'pass the ball' set-up and the ride sessions ran smoothly with additional riders turning up and registering to ride on the day. Those who didn't have a bikes or helmets were expertly looked after by the team at igKnight and GIANT, and Rotary and SYFS volunteers all worked together to create a brilliant family atmosphere and raise even more money in donations on the day.
Families and young people in particular where a huge feature of the day with a specific session dedicated only for riders under 10 years of age and their parents / guardians. During other sessions riders under 10 were kept to the inside lane of the track for increased safety and it was an absolute pleasure to see a steady stream of children riding throughout the entire day and having a blast.
Special mentions go out to young Leith Gosek, Callum Kerrigan and the Rowan tribe with young Elsie and her even younger brothers Micah, Quinn and Wyatt who were tearing up the track!
The online donation portal remained open for a further week with the final proceeds coming in at almost $70,000 after event costs. This is more than triple the previous single year record of $22K and indeed 80% of what the event had raised in its previous 7 years overall.
On June 11 an official Cheque Presentation Ceremony was held at SYFS Youth and Family Centre in Warilla with guests including politicians, sponsors, Rotarians and of course several of the young people involved who were so committed to giving back to the organisation and programs that assist them.
All proceeds from Ride4Rotary go towards Southern Youth and Family Services Education, Employment and Training programs, designed to improve the quality of life of their young people and their families.
Southern Youth and Family Services would again like to thank and acknowledge Illawarra's Rotary Clubs, all event sponsors, supporters, everyone who registered and participated along with the generous Illawarra Community and everyone who sponsored riders and donated to the event.
​A special thanks to Justin Sweeney from Peloton Group with huge donations supporting the event including each of SYFS young people participating.
Lancaster Law and Mediation for generous donations and support of the Illawarra Hawks Virtual Team along with Virtual IT Group, Illawarra Women in Business and Kells Lawyers for sizeable donations.
For more information on SYFS visit https://www.syfs.org.au/
For a full list of Ride4Rotary 2021 Sponsors and website links visit https://charity.syfs.org.au/event/ride4rotary-illawarra/sponsors
To keep up to date with planning and progress for Ride4Rotary2022 follow them on Facebook https://www.facebook.com/Ride4Rotary and Instagram https://www.instagram.com/ride4rotaryillawarra/