YOUNG PEOPLE AND FAMILIES HONOURED BY SYFS FOR THEIR ACHIEVEMENTS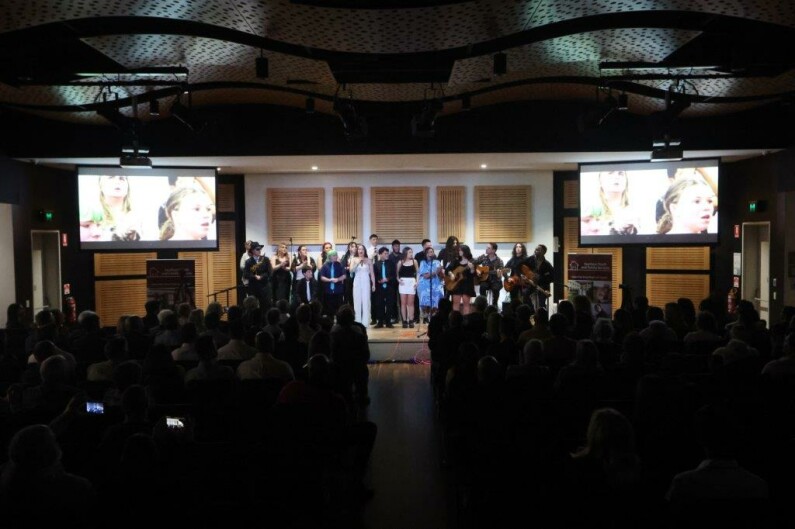 The annual Southern Youth and Family Services (SYFS) Youth and Family Awards took place at SYFS Youth and Family Centre in Warilla on Thursday November 2nd.
The awards ceremony has become a marquee event in the SYFS calendar, and this year drew a crowd of approximately 300 guests to recognise and pay tribute to the incredible achievements of many vulnerable young people and families over the past 12 months.
Along with over 40 young people and family members who received awards after being nominated by their support workers and staff leading up the event and independently judged. The night also saw 9 remarkable young people awarded with Scholarships including Mikey Ebony Wilden, Lilith Dungey, Tlyer Booth and Annalyce Orange who received Jennifer Hill Scholarships and Isaac Byaruhanga, Shania Curties, Patrcia Brockbank and Zinah Salah Hasan who each received Jennie George Scholarships. Logan Christie received a financial award from the the Benjamin Cooper Trust Fund.
Among the special guests in attendance were Parliamentary Member for Cunningham Allyson Byrnes and Parliamentary Member for South Coast Liza Butler, Simone Czech Deputy Secretary at NSW Department of Communities and Justice, along with St George Illawarra Sponsorship Executive Idris Wais and young guns Tyrell Sloan and Hamish Stewart and Illawarra Hawks players Mason Peatling and Harry Morris.
The crowd were in raptures over 17 year old local Amali Dimond who showcased her vocal prowess powering through 3 songs as the evening's first entertainer, fresh from a semi-final placing in The Voice Australia earlier this year.
The show was fittingly closed by well renowned indigenous singers / songwriters Dr Shellie Morris and Troy (Jungaji) Brady who performed not only their own originals, but also welcomed up to the stage a group of SYFS young people who had been working with the pair in a music workshop to write and compose their own original musical piece.
The final group song was widely praised by all in attendance as amongst the best ever written and performed by our young people participating in the workshop, spreading a message of love and hope and featuring lyrics in both English and Aboriginal language.
As always, the night was really about all of the deserving young people and family members who took centre stage, although the event simply wouldn't be possible without the support of the local business community and other generous community services and individuals who assist in funding award prizes and event costs. Many of whom were in attendance to mingle with other guests and young people throughout the evening and personally present their sponsored awards.
We would like to thank the following businesses and individuals for their generous support.
Major Sponsor
Entertainment Sponsor
Platinum Sponsors
Commonwealth Bank
AST Technologies
Virtual IT
Gold Sponsors
Illawarra Taxi Networks
EFEX
Stantec
Nowra Carpet Court
Silver Sponsors
Police Lake Illawarra District
The Albion Park Rail Neighbourhood Centre
The Byrnes/McMahon Families
Convenient Chemist Wollongong
The St George Illawarra Dragons
Illawarra Masonry
Kells Lawyers
Martin Merrett One Agency Real Estate
Illawarra Youth Housing
John and Jenny Murray
Nowra Chemicals
NR Wallace Building Inspections
Mike Baird
SYFS Annual Raffle which raises much needed funds for the organisations vital Education, Employment and Training programs was also drawn on the day, with winners announced that evening.
We would also like to thank and acknowledge our Raffle Sponsors -
Portico
Wave Surfboards
Virtual IT
Wollongong Bike Hub
Beauty by Beck
AST Technologies
Domayne Electrical Warrawong
Illawarra Hawks
St George Illawarra Dragons
WIN Sports and Entertainment Centre
The Lagoon Seafood Restaurant